Former Ambassador Pinto's Biography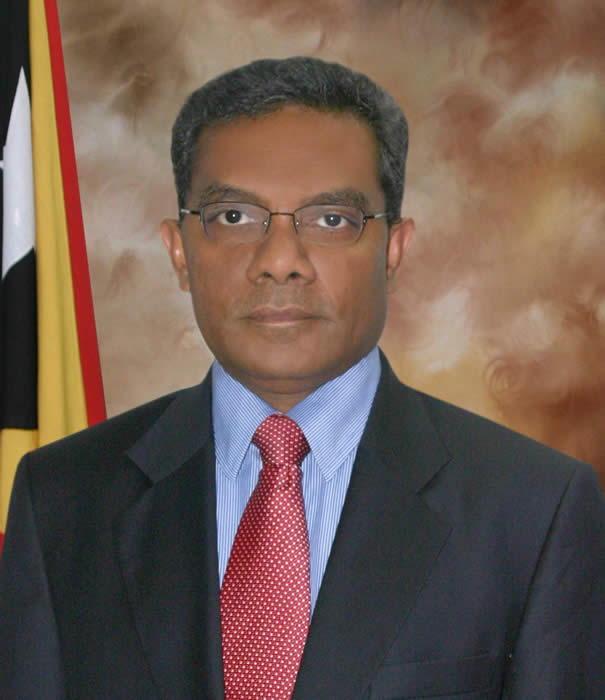 In November 2009, Mr. Constâncio da Conceição Pinto presented his Letters of Credence to His Excellency President Barack Obama who accredited him as the Ambassador Extraordinary and Plenipotentiary of the Democratic Republic of Timor-Leste to the United States of America. Prior to taking up his position in Washington, D.C., Ambassador Pinto was the Director General for External Relations of the Ministry of Foreign Affairs of Timor-Leste from June 2008 until October 2009. Ambassador Pinto was the first Timorese senior diplomat ever posted to Washington, D.C., soon after the Restoration of Independence of Timor-Leste in May 2002.
Ambassador Pinto has dedicated his life and energy to the freedom and self-determination of Timor-Leste (East Timor). In 1990 Ambassador Pinto was elected Secretary of the Executive Committee of the National Council of Maubere Resistance (CNRM) in the Clandestine Movement. The CNRM was the umbrella organisation of East Timorese resistance fighting for independence. Subsequently, in 1991, the Indonesian army arrested Mr. Pinto. He was jailed and tortured. Mr. Pinto, eventually escaped that same year. While in hiding, Mr. Pinto never gave up fighting; he helped organize the 12 November 1991 peaceful protest - a peaceful protest that turned into a bloody massacre when the Indonesian army shot and killed more than 270 peaceful protesters at Santa Cruz cemetery.
In 1992 Ambassador Pinto escaped to Portugal and eventually to the United States. While in the United States he tirelessly campaigned throughout the country, raising awareness about his country and getting support for his struggle. He testified before the U.S. Congress, the United Nations Committee on Decolonization, and the United Nations Commission on Human Rights in Geneva and took part in the Intra-Timorese Dialogue held in Austria facilitated by the United Nations.
Ambassador Pinto co-authored East Timor's Unfinished Struggle: Inside the Timorese Resistance (1996); and wrote a chapter for the book Bitter Paradise (2000). His articles on the East Timorese struggle have appeared in the LA Times, Washington Post, Providence Journal and Philadelphia Inquirer. He has also had many interviews on radio and TV including on CNN and PBS's The NewsHour with Jim Lehrer. In 1997, Ambassador Pinto received the U.S. Congressional Achievement Award in recognition of being a courageous champion for social, political, and economic justice in East Timor.
Ambassador Pinto has an M.A. in International Relations from Columbia University, School of International and Public Affairs (SIPA) and a B.A. in Development Studies from Brown University in Providence, Rhode Island. He speaks fluent Tetun, Portuguese, Bahasa Indonesia and English. He is married to Gabriela Pinto and they have two children, Tilson and Tima.